Gay Travel Platform MisterB&B Exceeds $500K on Wefunder
This article was originally published on Crowdfundinsider and is written by Erin Hobey.
The gay travel platform
misterb&b
has quickly surpassed $516K with the help of 916+ investors, easily bypassing its minimum target, and on its way to a $1M
Wefunder campaign
target goal. Just last year the startup celebrated an $8.5M Series A round.
Founded by CEO
Matthieu Jost
and
François de Landes de Saint Palais
, misterb&b empowers the gay community to travel more safely, feel welcome and more easily secure local insider tips about global destinations.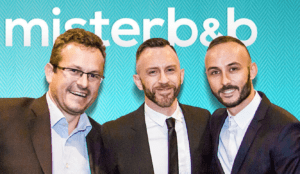 "We're the world's largest gay travel lodging platform, with more than 220,000+ hosts [310,000 hosts now according to Twitter] across 135 countries offering short-term rentals. With more than $13.5M raised institutionally, we want to offer our loyal community and supporters the opportunity to own a part of our company," stated the misterb&b campaign.
According to the campaign, the total addressable market for online accommodation Market in LGBTQ community is $16 billion USD. LGBTQ travelers are the most active segment in the travel space – 80% of U.S. LGBTQ folks have a passport compared to 40% of the general population.
Now Live on @wefunder @mister_bandb #LGBTQ Travel Booking Platform
Funding raised will be used to expand mister&b's offerings of LGBTQ-friendly hotels, particularly in areas where it currently has few short-term rentals. Funds will also be used to broadly market this new offering and grow mister&b's revenues. A small part of the funding will set aside for technology and API connections.
By adding LGBTQ-friendly hotel rooms to its inventory, France-based misterb&b aims to stay true to its mission and unique value proposition, by helping LGBTQ travelers to connect by knowing if other misterb&b guests will stay at the same hotel, allowing them to get in touch if their dates coincide and to travel safely. Founded in 2013 after the CEO and his partner were rejected by a host because they are gay, Misterb&b's team selects LGBTQ-friendly hotels and that the community will leave exclusive reviews from LGBTQ travelers.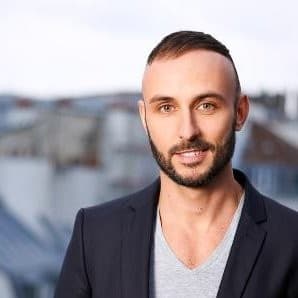 "What led me to misterb&b is that I had a terrible experience booking a short-term rental. I'd booked a private room on a mainstream platform with my partner. When we arrived at the destination, the host was very uncomfortable having two gay guys sleeping in a room together," commented Jost on Wefunder. "After that very awkward and sad experience, I decided to create misterb&b so my community would not face this kind of situation anymore, and we can feel welcome and safe everywhere we travel in the world."
On Wefunder, Jost also addressed growth and leading potential hosts and clients away from other booking platforms:
"For our community, what we have learned is that the first thing hosts look at is that to connect with the community. That comes first for them, before making money. What they want is to be able to host their community and show them the city. So, all the messaging we use is focused on community and connection," continued Jost. For guests, what works is messaging about connecting, making new friends, being able to stay like a local, and get host tips. Because, for us as a community, when we travel, sometimes it's hard to connect and find where the good things to see and visit are and where the gay scene is. It's easy to find lists of bars on the internet, but how do people actually live in the city and participate in the gay scene. This is of interest to our guests. This works to connect the community. And like every tech platform we use the major social networks to recruit hosts and guests."
For more misterb&b Wefunder campaign details and financial information, please
click here
.
Comments
Tell your friends. Help spread the word . . . .